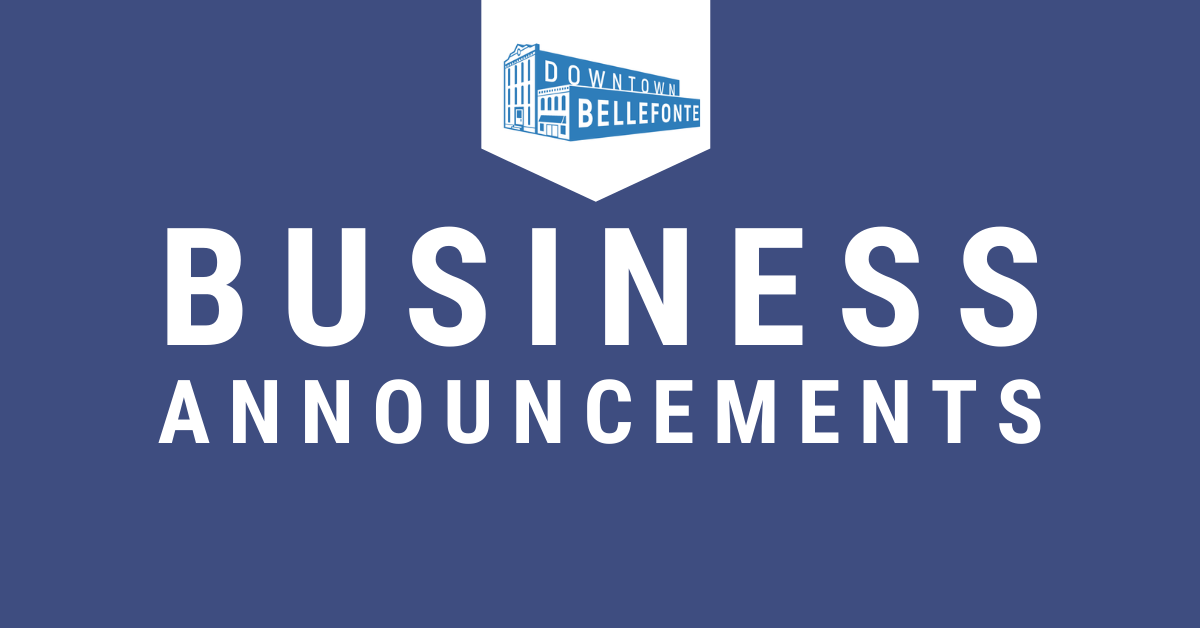 In an effort to help our downtown businesses amid closures, cancellations and more, Downtown Bellefonte Inc. is curating this list of business changes and special notes from management.
To be included on this list, email Gina Thompson at manager@downtownbellefonteinc.com.
Art a la Carte – CLOSED
Art a la Carte will be closed for two weeks as of March 13, at which time it will reevaluate its hours. If you're interested in purchasing art or items from the store, please contact Elizabeth Hay through the website or call the store: (814) 355-1590
Bellefonte Art Museum – CLOSED
The Bellefonte Art Museum will close to the public through the remainder of March. To support the artists whose work is on exhibit now, BAM will extend their shows through April and reschedule April shows to a later date.
Big Spring Spirits – OPEN
Open for regular business hours in the Tasting Room, which includes hosting the Peach Whiskey Release Party this Tuesday, March 17th, and the Kitchen Takeover with Rosie's Pierogies and BBQ by Clem on Wednesday, March 18th.
Brazilian Munchies
Location at Pegula Ice Arena is closed until further notice, however the staff is working on shifting to delivery from its commercial kitchen in Bellefonte. Watch for updates on Instagram.
Bonfatto's Italian Market – OPEN
Hours remain unchanged at Bonfatto's. As well as eating in, online ordering is available for pickup and Grubhub is available for deliveries. They are fully stocked on pasta and are getting more shelf stable items in that will be available to order online as soon as they come in.
The Cakery – CLOSED
The Cakery will close for the week of March 16 through March 22. Special orders can still be made by Monday afternoon. Minimum orders of 1 doz for cupcakes and cookies. Please email inquiries to thecakerybellefonte@gmail.com. Hopefully they will resume normal business hours the week of March 23.
Confer's Jewelers – OPEN
Confer's Jewelers will remain open regular business hours.
Co2 – The Unique Boutique – OPEN
Co2 will remain open regular business hours.
Good Intent Cider – OPEN
Starting Sunday, March 15, Good Intent Cider will offer online order and delivery to your porch for customers in State College and Bellefonte only. All orders received by 3 pm will be delivered same day. Please be patient while they work out the kinks! Gift cards are also available for purchase.
In addition, Good Intent Cider will operate during normal business hours. Extra precautions are being added to keep customers safe, including extra sanitizing measures and phone/online ordering for pick-up.
Business hours:
Thursday 3 to 9 pm
Friday 3 to 10 pm
Saturday 12 to 10 pm
Sunday 12 to 6 pm
Studio 1795 – OPEN
While Studio 1795 is not closing as of March 13, special precautions are being taken to ensure that the space remains sanitized and cleanly. Coworking is still open to the community between the hours of 8 a.m. and 4 p.m. Monday through Thursday.
The current event schedule is as follows:
Home Buyers Seminar, Sunday, March 15 — Event will be held beginning at 11:30 a.m.
Community Coffee Chat, Monday, March 16 — CANCELLED
Reynolds Mansion – OPEN
Reynolds Mansion is offering BOGO Staycation Special now through the end of April.
Young's Tae Kwon Do
Young's 2020 Spring Karate Tournament on April 4, 2020, has been rescheduled to October 3, 2020.
---