The last Friday of each month, celebrate downtown Bellefonte's shopping, dining, arts and craft beverages during Friday in the 'Fonte!
This month, dine outside in Bellefonte during Friday in the 'Fonte
As part of our monthly Friday in the 'Fonte celebration, additional tables and chairs will be placed in front of the Centre County Courthouse (Allegheny Street) and along Bellefonte's Waterfront Walkway. Access the Waterfront Walkway from either West High or Lamb streets. Enjoy takeout from your favorite Bellefonte restaurant while dining outside and enjoying our picturesque town, the view amplified by the surrounding backdrop of mountains.
Dining tables will be wiped down hourly, and sanitizing solution will be available for your convenience. Tables will be placed to allow social distancing while eating and walking through the area.
Tables will be available for use between 5 and 9:30 p.m.
This initiative was made possible in part by Historic Bellefonte Inc., the Bellefonte YMCA and Watermarke Church, who have made donations of chairs and tables.
Don't forget: Many businesses stay open during Friday in the 'Fonte for extended shopping hours! Before of after you've had a bite, take a stroll through the downtown to visit our wide variety of shops.
Grab a scoop during Friday in the 'Fonte
On a hot summer evening, there's nothing better than a cool ice cream treat! Grab one at multiple downtown locations:
Movie Night at the Bellefonte Armory!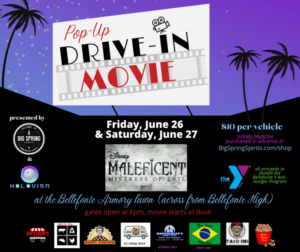 Do you miss the good ol' days of drive-in theaters? Well now you'll have a chance to relive some of the old time magic right here in Bellefonte! Cost is $10 per car and tickets will be sold in advance online through Big Spring Spirits. Proceeds from the drive-in will benefit the Bellefonte YMCA. Click here for more additional details and to purchase tickets.  
---
Interested in becoming a Friday in the 'Fonte sponsor? Interested businesses or organizations should contact Gina Thompson at manager@downtownbellefonte.com.
Tags: downtown bellefonte, friday in the fonte, happy valley pa, shopping, small business
---