The last Friday of each month, celebrate downtown Bellefonte's shopping, dining, arts and craft beverages during Friday in the 'Fonte!
This month participating businesses are holding a Sidewalk Sale and we have outdoor seating set up along the waterfront and courthouse for take-out dining!
Participating Business and Organization Members
Big Spring Spirits, 4 to 10 p.m., take-out, curbside pickup, and delivery options available.
198 Match Factory Place • (814) 353-4478
The Tasting Room is now open! Stop in to enjoy a summer inspired handcrafted cocktail and delicious food from Nomad Kitchen. Dine safely indoors or outdoors on the patio with views of Talleyrand Park.
Also, BSS is still busy selling spirits, bottled ready-to-drink cocktails, and hand sanitizer to go! Order online and choose curbside pickup, free local delivery, or $5 shipping anywhere in PA.  All revenue generated from the sale of hand sanitizer will be donated to the Bellefonte YMCA and The FaithCentre to support their mission to feed those in need in our community.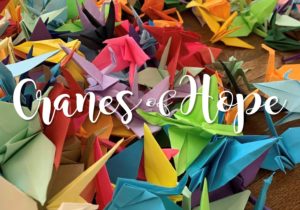 133 N Allegheny St • bellefontemuseum@gmail.com
Join the Bellefonte Art Museum in sending "Cranes of Hope" around the world! One thousand Origami Cranes are currently on display in the Bellefonte Art Museum's 24/7 Display Window. In Japanese tradition, Cranes symbolize hope and longevity, and they are inviting you to share these symbols of hope for good health and good fortune with friends and family. You can request your desired number of Cranes by emailing us at bellefontemuseum@gmail.com or stop by Confer's Jewelers or the Bellefonte B&B during July's Friday in the Fonte' to pick up your Cranes for mailing. Help BAM send love around the world with these symbols of hope!
135 W High Street • thecakerybellefonte@gmail.com
Whether you like cakes, cupcakes, pies, bread, scones, or some other sweet treat, The Cakery will most certainly meet your needs! This month they will be debuting a new item: Mini Cookies Cream Tarts! In addition, By A Thread Boutique Pop-Up will be set up from 5:30 to 7 p.m. Stop by for delicious sweet treats and try on some unique clothing items!
Coffee truck @ in front of the Courthouse
Welcome to the new kid on the block! Bees Knees Coffee is a coffee trailer owned and operated by Bellefonte local Bromlyn Fitzgerald. At Bees Knees Coffee, they are focused on buying local products for their customers. They use honey from Spring Creek Honey in Bellefonte, milk from Meyer Dairy in Boalsburg, and the coffee is fair trade and organic, locally roasted by Cafe Lemont. Find them on the streets of downtown Bellefonte during Friday in the 'Fonte.
216 W High Street  • (814) 954-5383 
Stop in for fresh and healthy wraps and finish up with a fruit smoothie or hand-dipped Hershey's ice cream before or after your shopping adventures.
213 E. Bishop St. • 814-353-1022
Stop in for a Buy 2, Get 1 Free sale on the signature Jabebo Earring, made from recycled cereal boxes. You'll get an additional 10% discount with your donation of cereal boxes! In addition to their signature earrings, you can also find locally made bath and beauty products, hand-made and fair-trade items.

*** Thank you to our Business and Organization Members! ***
---
---
Additional Downtown Businesses
Confer's Jewelers, 10 a.m. to 7 p.m.
100 N. Allegheny Street • (814) 355-8836
Confers will be kicking off their huge August sale by hosting a Love-olution celebration! Stop by from 5 to 7 for food, live music, free prizes, giveaways, and sales! Everything is 20-50% off (exclusions apply) and with every purchase you'll get 10% back in a gift card to give to family or friends. Be sure to check out the sterling silver table outside where everything is 50% off!

Co2 Boutique, 10 a.m to 7 p.m.
104 N Allegheny Street • (814) 353-4258
Check out the sidewalk sale happening at Co2 Boutque — Vera Bradley is 50% off! In addition, you can find ladies accessories, purses, fashion jewelry, gifts and more!

The Great Mish Mosh, 11 a.m. to 6 p.m.
128 S Allegheny Street • (814) 353-4226
Stop by Mish Mosh for a great selection of new, used, & antique furniture, estate jewelry, glassware, art, handcrafted and home decor. They've got a bit of everything! 

Helen Foxx and Co., 10 a.m. to 7 p.m.
122 S Allegheny Street • (814) 548-7847
Helen Foxx carries a wide selection of ladies boutique clothing and accessories, for all sizes and budgets. Stop by to see what's for sale! This month they are teaming up with Centre Boot Company to feature some exciting merchandise! 

My Cafe Buzz, 8 a.m. to 9 p.m.
325 W High Street • (814) 810-2341
While you're out for a stroll in Talleyrand, stop by Bellefonte's newest cafe for free sample of a sweet treat! In addition, they'll be serving up coffee, homemade baked goods, breakfast & lunch, smoothies, ice cream, and their famous "Buzz Bowls." For Friday in the 'Fonte stop 

Jake's Cards & Games, 4 to 7 p.m.
131 W High Street •  (814) 355-1137
Stop by Jake's to visit AVON Representative, Lori Taylor. She'll be selling bug sprays, make-up, lotions & deodorants, and other useful household & hygiene products.


Lock Boutique, 3 to 6 p.m.
136 W High Street 
Lock is a woman's clothing boutique offering trendy, chic affordable clothing for all. Stop in to try on the new summer line! Look for the balloons!

Plumb's Cards and Gifts, 9 a.m. to 9 p.m.
105 N Allegheny Street • (814) 355-3225

Plumb's offers beautiful home decor, gifts, cards and stationary. And don't forget about their old-fashioned soda fountain with hard ice cream. Get 25% off your regularly priced gift shop purchase during Friday in the 'Fonte.
Richard Knupp Heritage Center, 1 to 7 p.m.
123 N. Allegheny Street
Stop in to check out the recently opened heritage center in Bellefonte. Here you can find information on Bellefonte history and scheduled historic self-guided tours through town. Chat with Sally Houser and JoAnn Knupp about all things Bellefonte.

State Burger Co., 11 a.m. to 8 p.m.
101 S Allegheny Street •  (814) 424-7494
Design your own craft burger, score some fresh-cut fries, or order a malted milkshake. Dine-in or take out! This Friday in the 'Fonte State Burger will be featuring a new dessert item! Stop by to find out what it is and try a sample! 
URBN Flavourhaus Bellefonte, 7 a.m. to 5 p.m.
141 W High Street • (814) 355-1178
Details to come
---
Interested in becoming a Friday in the 'Fonte sponsor? Interested businesses or organizations should contact Gina Thompson at manager@downtownbellefonte.com.
Tags: downtown bellefonte, friday in the fonte, happy valley pa, shopping, small business
---