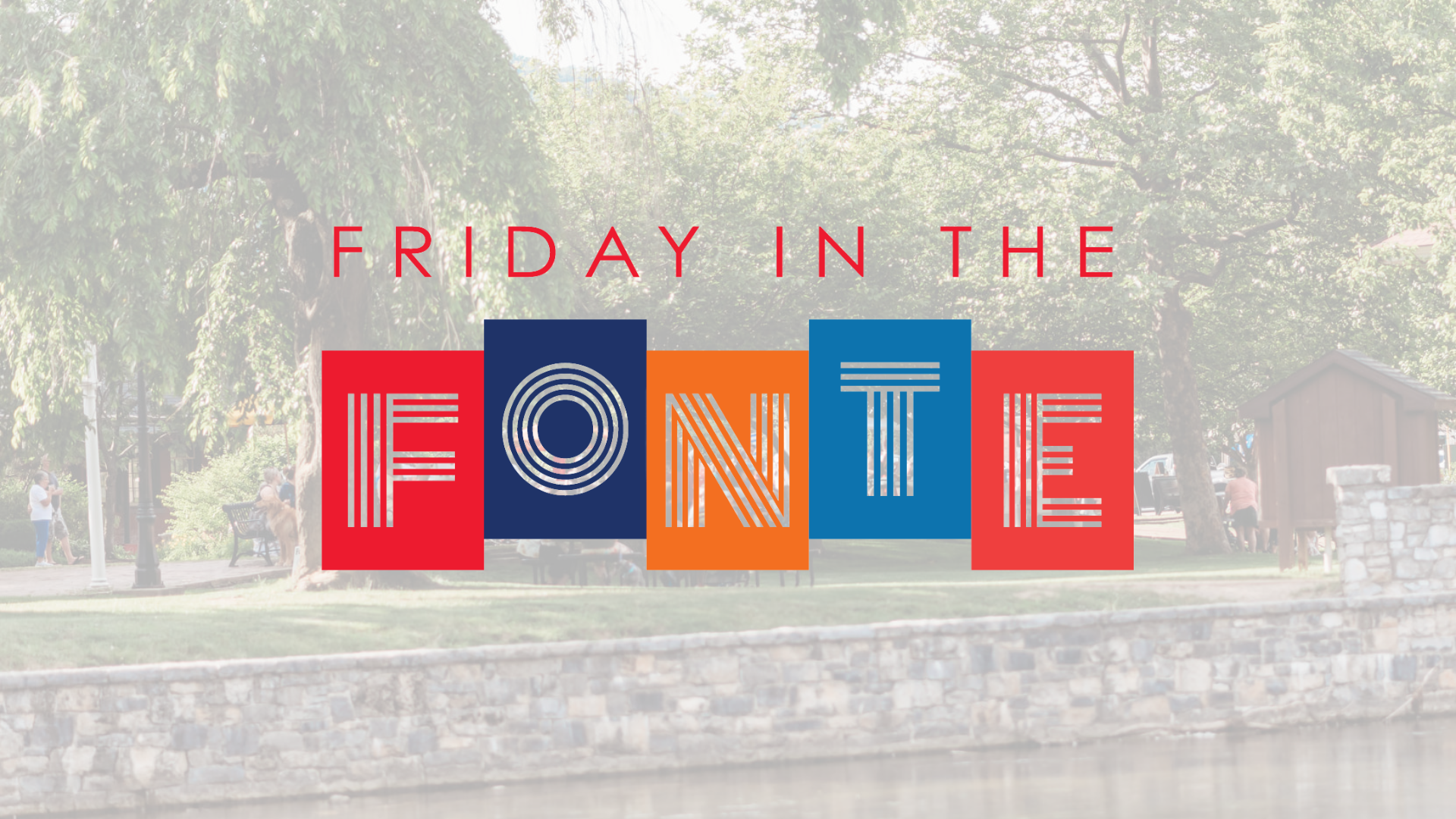 Friday in the 'Fonte will kick off its summer series on May 26, 2023, 5 p.m. to 8 p.m. at the Centre County Courthouse, 102 N Allegheny St, in downtown Bellefonte. In addition to the festivities at the courthouse, businesses around town will be celebrating the kick-off event with later hours, specials, and other fun activities!
As a way to celebrate local restaurants, shops, and businesses in downtown Bellefonte, Friday in the 'Fonte is a community event held each year on the last Friday of May, June, July, September, and October. The downtown fills with energy while residents and visitors take to main street to join in on all the town has to offer. 
This Friday, catch live music by Caryn Dixon and shop craft vendors at the courthouse, grab an italian ice from Sunset Slush Happy Valley, and head into one of the many great restaurants in town for dinner. 
This event presents the perfect opportunity to check out the newest shops that have announced their openings along Bellefonte's main street – The Print Factory (opening fall 2023), All Things Kind Market (open now), and Shae Nouveau (open now). 
The Print Factory, will be holding a pop up outside their new building at 130 S Allegheny St for the event. Stop by for some swag and learn about the non-profit independent bookstore opening this coming fall.
This past March, All Things Kind Market made a home in Centre County to become the first sustainable home goods market and soap refill bar in the area. During Friday in the 'Fonte, they are inviting the community into the store to learn more about sustainability, mindful shopping, and their products. Local vendor, Mod Moss, will also have a pop up inside with a bracelet bar.
Shae Nouveau, a vintage and modern pre-worn clothing boutique, adds to the list of environmentally conscious businesses in Bellefonte. Shop specially curated pieces while also browsing handmade macrame collections from pop up, Arctic Knots Co. during the event.
In addition to the newcomers, there are so many other businesses and shops that make downtown Bellefonte an amazing place to come visit.
Smith & Front will be open until 7 p.m. on Friday and will be hosting their Sunday Funday on May 28, 11 a.m. to 4 p.m. For their Sunday event, the green area in front of the Gamble Mill will be filled with food trucks and local vendors showcasing their handmade products. 
Art a la Carte will have demonstrating artists outside their storefront, and at least four types of homemade cookies! They will be open until 7 p.m. By A Thread on Bishop Street will also be joining in on the festivities with pop up, crochet maker K Krochets.
"We're so excited to kick off Friday in the Fonte! It's a great opportunity for us to show off our beautiful town, our unique businesses, and all that Bellefonte has to offer. By A Thread first came to Bellefonte as a pop up vendor during Friday in the Fonte so the event holds a special place in our heart. We're especially excited to collaborate with other small businesses and makers to provide them the same opportunity," said Emily Boone, owner of By A Thread. 
The Bellefonte Fire Department will also be open to the public for those interested in learning more about becoming a volunteer.
Bring your blankets and chairs to hang out for live music at the courthouse and check out the following local vendors: Federalist Studios, Felicity's Pet Supplies, Sammy's Secret Garden, Sunset Slush Happy Valley, Hannah Simon Art, Rebel Made Goods, Rivera Artistry, Sandies Designs, and Footprints of Hope.
---