UPDATE: Due to forecasted thunderstorms, DBI has decided to cancel the outdoor dining and live music (7-8) for this evening. Please continue to support and patronize our businesses, whether in person or online. Thank you! We'll see you next month for Friday in the 'Fonte: September 25. 
*** DBI is committed to stopping the spread of COVID-19 in our community and we care about the safety of our volunteers, businesses owners and employees, and visitors. Our open air dining is socially distanced and volunteers will be standing by to wipe and disinfect tables after each use. In addition, we will have paper towels and disinfectant spray for visitors to use. We ask that you wear your mask while indoors patronizing businesses and outside when you are unable to maintain appropriate social distance.
---
---

Check out this month's participating businesses for special hours and promotions! Downtown Bellefonte Inc. will have open air outdoor seating at the courthouse for take-out dining and live music from 5-9 p.m. outside Confer's Jewelry.
Participating Business and Organization Members

Big Spring Spirits, 4 to 10 p.m., take-out, curbside pickup, and delivery options available.
198 Match Factory Place • (814) 353-4478
The Tasting Room is now open! Stop in to enjoy a summer inspired handcrafted cocktail and delicious food from Nomad Kitchen. Dine safely indoors or outdoors on the patio with views of Talleyrand Park.
Also, BSS is still busy selling spirits, bottled ready-to-drink cocktails, and hand sanitizer to go! Order online and choose curbside pickup, free local delivery, or $5 shipping anywhere in PA.  All revenue generated from the sale of hand sanitizer will be donated to the Bellefonte YMCA and The FaithCentre to support their mission to feed those in need in our community.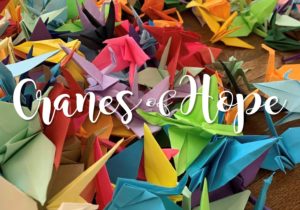 133 N Allegheny St • bellefontemuseum@gmail.com
Join the Bellefonte Art Museum in sending "Cranes of Hope" around the world! One thousand Origami Cranes are currently on display in the Bellefonte Art Museum's 24/7 Display Window. In Japanese tradition, Cranes symbolize hope and longevity, and they are inviting you to share these symbols of hope for good health and good fortune with friends and family. Join us in sending these 1,000 "Cranes of Hope" to friends and family. You may choose to write a message on your crane, draw a picture, or attach it to a photograph or letter. No matter how you send it, your recipient will be thrilled to know you care. Help us send love around the world with these symbols of hope. Cranes are free and available for pickup at the museum. Email us at bellefontemuseum@gmail.com to request the desired number of cranes, and we will contact you with safe curbside pickup instructions.

Bees Knees Coffee, 5 to 8 p.m.
Coffee truck @ the courthouse
Bees Knees Coffee is a one-of-a-kind coffee trailer owned and operated by Bellefonte local Bromlyn Fitzgerald. Bees Knees Coffee is focused on buying local products; they use honey from Spring Creek Honey in Bellefonte, milk from Meyer Dairy in Boalsburg, and the coffee is fair trade and organic, locally roasted by Cafe Lemont. Find them outside the courthouse serving up hot and cold coffee, lemonade, and homemade baked goods. Friday in the 'Fonte Happy Hour special: $1 off hot or cold specialty lattes, 6 to 7:30. 
135 W High Street • thecakerybellefonte@gmail.com
Whether you like cakes, cupcakes, pies, bread, scones, or some other sweet treat, The Cakery will most certainly meet your needs! Stop by for delicious sweet treats!
100 N. Allegheny Street • (814) 355-8836
Confers will be wrapping off their LOVEolution with a Grange Fair themed celebration! Stop by from 5 to 7 to experience the Grange Fair with carnival foods, children's games, and live music, and a special "spin it to win it" game. Of course, you'll find tons of sales still going on through August.  Everything is 20-50% off (exclusions apply) and with every purchase you'll get 10% back in a gift card to give to family or friends.
216 W High Street  • (814) 954-5383 
Stop in for fresh and healthy wraps and finish up with a fruit smoothie or hand-dipped Hershey's ice cream before or after your shopping adventures.

Jabebo Studio, open by chance or by appointment.
213 E. Bishop St. • 814-353-1022
Although their website is set up for wholesale customers, if you see earrings you like, just give them a call and they can arrange to have your earrings ready for contact-less pickup! You can also purchase earrings through their Etsy page.
Jabebo's earring are made out of recycled cereal boxes and are sold to hundreds of stores across the US and Canada! They are always collecting cereal boxes from the community and have a drop-box on Cherry Lane across from Jim's. You can also bring them to the store when they're open, and if you have a big stack, just give them a call and they'll arrange to pick them up!
141 W High Street • (814) 355-1178
Stop by the newly renovated downtown URBN Flavourhaus for delicious milkshakes, sandwiches, and coffee drinks, or visit the drive through at Park Place for a full menu.
Places to stay while in town:
313 E. Linn Street • (814) 355-1117
Our Fair Lady is a beloved Bed & Breakfast in the heart of Historic Bellefonte. Enjoy warm hospitality, quality comfort, and a rich historic atmosphere in this meticulously-maintained 19th century home. It's the perfect weekend getaway, or place to call home for an extended stay.
111 & 132 Village Drive, State College • (814) 235-1020, (814) 235-1900
Need a place to stay while you're in the area? Both the Sleep Inn & Comfort Suites have been newly renovated and are ready to welcome you. While HFL Corporation has always committed to the highest standard of cleanliness, both hotels are taking extra steps and precautions during this time to ensure the safety of their guests and employees. They continue to comply with all regulations for operations and cleaning protocols. The staff has been trained accordingly, and face masks and social distancing protocols are in place.
Follow this link for a special Downtown Bellefonte Inc. discount on your stay.
*** Thank you to our Business and Organization Members! ***
---
---
Additional Downtown Businesses
Art A La Carte, 10 a.m. to 6 p.m.
107 S. Allegheny Street • (814) 355-1590
Art a la Carte features dozens of local artists, carefully curated to showcase a diverse group of artists working in a variety of mediums. Stop in to find find jewelry, glass, woodwork, quilts, handwoven pieces, felt, marbled silk, pottery, paintings, pastels, photography, homemade goats' milk soap, handmade cards, Bellefonte memorabilia and more!
Bonfatto's Italian Market & Cafe
401 W High Street • (814) 353-3330
Bonfatto is honoring the Grange Fair by running a Bonanza Sub special! $.50 off 8 inch (with promo code: GRANGE8INCH) and $1.00 off 16 inch (with promo code: GRANGE16INCH). The discount will automatically apply in-store, promo code required for online orders. Special runs the duration of what would have been the Grange Fair – August 21 through August 29.

Co2 Boutique, 10 a.m to 7 p.m.
104 N Allegheny Street • (814) 353-4258
Check out the sidewalk sale happening at Co2 Boutique — Vera Bradley is 50% off! In addition, you can find ladies accessories, purses, fashion jewelry, gifts and more!

Good Intent Cider, 3 to 10 p.m.
167 S Potter Street • (814) 355-1654
Come sit on the patio and enjoy a special small-batch cider release and food from Happy Valley Taco. Reservations for patio seating are not required, but can be made at https://www.waitlist.me/w/goodintentcider.
Governors Pub, 11 a.m. to 10 p.m.
211 W High Street • (814) 353-1008
Come by GovPub and eat outdoors on the patio, where well-behaved pets are welcome. There will be food specials all day long as well as a great beer and cocktail selection.

Helen Foxx and Co., 10 a.m. to 7 p.m.
122 S Allegheny Street • (814) 548-7847
Helen Foxx carries a wide selection of ladies boutique clothing and accessories, for all sizes and budgets. This week there's 60% off clearance items! Come celebrate what would have been the last weekend of Grange Fair with carnival games and fun! 

My Cafe Buzz, 8 a.m. to 8 p.m.
325 W High Street • (814) 810-2341
While you're out for a stroll in Talleyrand, stop by Bellefonte's newest cafe to try the newest addition to their menu — milkshakes! In addition, they'll be serving up coffee, homemade baked goods, breakfast & lunch, smoothies, ice cream, and their famous "Buzz Bowls." They also feature local art that is for sale. 


Local Historia, 5 to 8 p.m.
Free walking tours starting from Knupp Heritage Center

Local Historia will be providing free historical walking tours during Friday in the 'Fonte! The tours are approximately 30 minutes and will start on the hours of 5 pm, 6 pm, 7 pm, and 8 pm. A max of 15 people per tour. Sign up at the Knupp Heritage Center. Donations can be made to DBI to aid in their mission of historic preservation. $5 suggested donation.
Lock Boutique, 11 to 5 p.m.
136 W High Street 
Lock is a woman's clothing boutique offering trendy, chic affordable clothing for all. This week is their summer sale! Stop in for great deals on summer clothes or check out the new Fall lineup!

Plumb's Cards and Gifts, 9 a.m. to 9 p.m.
105 N Allegheny Street • (814) 355-3225

Plumb's offers beautiful home decor, gifts, cards and stationary. And don't forget about their old-fashioned soda fountain with hard ice cream. Get 25% off your regularly priced gift shop purchase during Friday in the 'Fonte.
Richard Knupp Heritage Center, 3 to 8 p.m.
123 N. Allegheny Street
Stop in to check out the recently opened heritage center in Bellefonte. Here you can find information on Bellefonte history and scheduled historic self-guided tours through town. Chat with Sally Houser and JoAnn Knupp about all things Bellefonte.
State Burger Co., 11 a.m. to 8 p.m.
101 S Allegheny Street •  (814) 424-7494
Design your own craft burger, score some fresh-cut fries, or order a malted milkshake. Dine-in or take out! This Friday in the 'Fonte State Burger will be featuring a new dessert item! Stop by to find out what it is and try a sample! 
---
Interested in becoming a Friday in the 'Fonte sponsor? Interested businesses or organizations should contact Gina Thompson at manager@downtownbellefonte.com.
Tags: downtown bellefonte, friday in the fonte, happy valley pa, shopping, small business
---