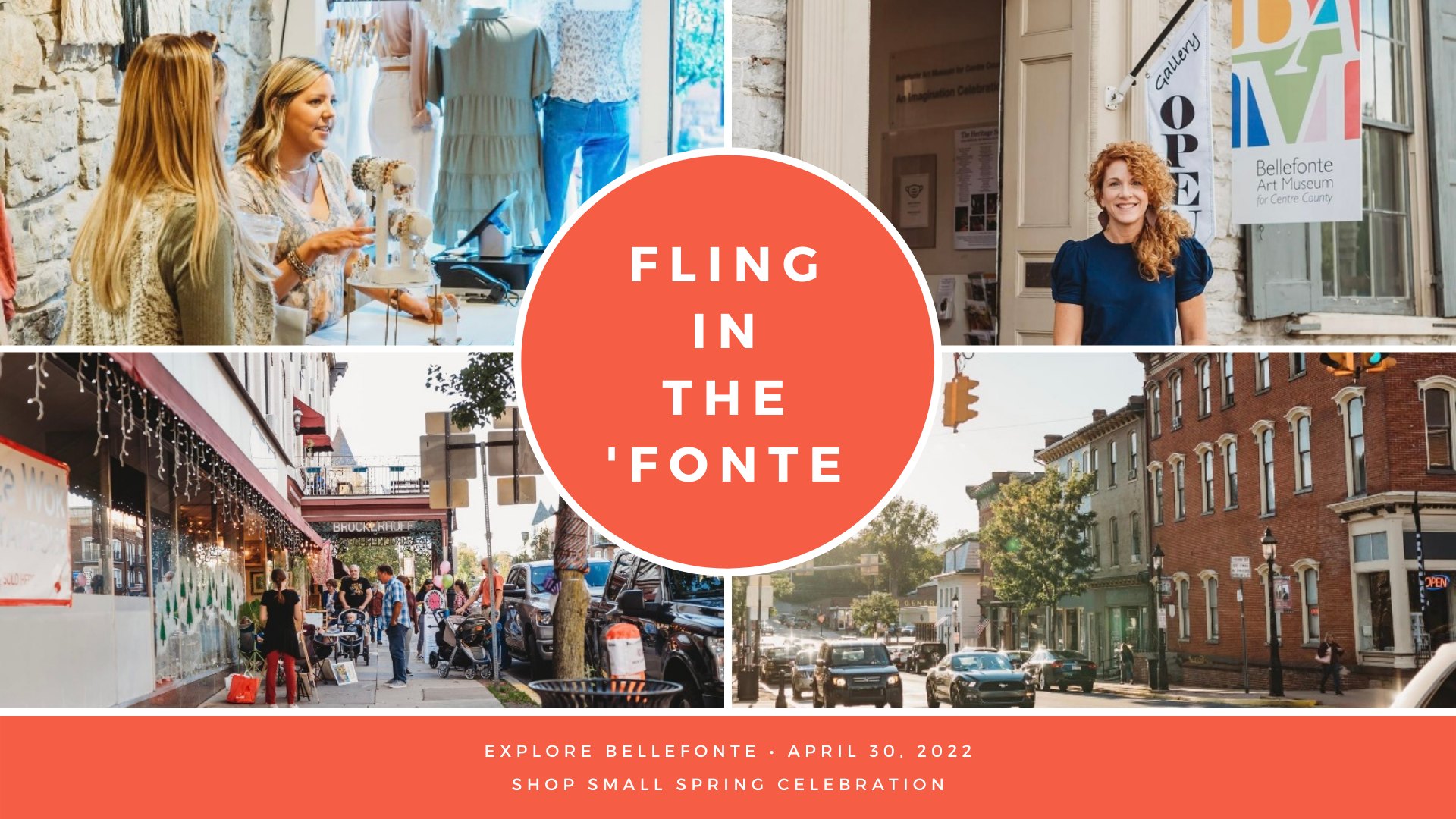 On April 30, 2022, Downtown Bellefonte businesses are joining forces to host Fling in the 'Fonte. To welcome the warm weather, Bellefonte businesses have organized a spring day of shopping and fun in the community. Whether you're experiencing Bellefonte for the first time as a visitor; or you're a long time resident, there will be numerous opportunities to support Bellefonte's small business community. Check out all of the entertainment, activities, and promotions that will be going on downtown the last Saturday in April. Remember that parking is free downtown after 12 p.m. on Saturdays!
Announcements from participating businesses can be found below: 
Art a la Carte, 10 a.m to 4 p.m.
107 S Allegheny St • artalacartepa.com
Art a la Carte will have local artists demonstrating their techniques, as well as new spring merchandise and specials.
Bellefonte Farmers' Market, Every Saturday in April through October, 8 a.m. to 12 p.m.
160 Dunlap St & W Lamb St (The Gamble Mill Parking Lot) 
Save the date for opening day of the Bellefonte Farmers' Market season. This outdoor market features local vendors offering fresh produce, fruit, flowers, meats, kombucha, soaps, baked goods, aromatherapy, and more. 
Belle Mercantile, 10 a.m. to 5 p.m., Food and Drink Pop-ups: 11 a.m. to 3 p.m.
135 S Spring St • bellemercantile.com
Join Belle Mercantile for their Spring Celebration Open House. They are featuring pop-ups by local businesses all throughout the day. In addition to their regular vendors, shop special pop-ups by Savory Station Food Truck, The Cakeshop by Tati, Old Farmhouse Brewery, Shae Nouveau and Weston Workshop Boutiques. They will also be featuring Boalsburg's Hidden Hostess Chef, presenting spring quick bites demos perfect for Mother's Day or Graduation Day get-togethers. 
Register for Great Giveaways including Belle Mercantile gift certificates and receive customer appreciation door prizes just for stopping by, while supplies last.
By A Thread Boutique, 10 a.m. to 3 p.m. 
135 W High St • byathreadboutique.com
By A Thread will be having a "See Ya Soon Sip & Shop" to celebrate their move to Bishop Street.
Federalist Studios, 9 a.m. to 3 p.m.
415 W High St • federaliststudios.com
Federalist Studios will set up a table outside of the 415 West High Street residence (up the street from Bonfatto's) with prints and small potted plants available for purchase.
Helen Foxx & Co., 10 a.m. to 4 p.m.
122 S. Allegheny St • helenfoxxandco.com
Enjoy locally-made cookies and a seasonal cocktail. Receive a gift with every purchase (while supplies last).
Jabebo Studio, 11 a.m. to 4 p.m.
213 E Bishop St • jabebo.com
Jabebo Studio will be hosting a local artist named Anne Walker, Spring Creek Botanicals. Anne plans to bring some of her Window Charms. The charms are made from petals, leaves, berries, and essential oils. Hang in a sunny window and wait for the magic! Anne will also feature the Primavera Ladies, a must see. Also joining will be Wholesomely Rooted. They will have some Herbal Teas, Kombucha, and Medicinal plants on hand for tasting and discussion. Come by and check them out!
The Makery at the Bellefonte Art Museum, 12 to 4:30 p.m.
133 N Allegheny St • bellefontemuseum@gmail.com
While you are visiting the exhibits at the art museum, make sure to stop in to The Makery to celebrate the spring season by creating giant, colorful flowers using paper, paint, and lots of sparkle. These "Big Blooms" are fun for all ages!
Plumb's Drug Store & Gift Shop, 9 a.m. to 6 p.m.
105 N Allegheny St • 814-355-9404
Stop by the gift shop to take advantage of a promotion for 25% off your purchase. 
Smith + Front, 10 a.m. to 4 p.m., Plant Swap: 12:30 to 1:30 p.m., Outdoor Yoga: 11 a.m. & 2 p.m.
160 Dunlop St • smithandfront.com
Enjoy a fun filled day of extreme plant love! The day will include a free 3" plant with a $40 purchase at Smith + Front (while supplies last), plant swap (completely free, pre-registration required), handmade vendors, yoga for a cause, and a botanical sun print class. Use the hashtag #plantdazed2022 on instagram to see what plants will be coming to the Swap! 
Vendors:
Kara Kyle Ceramics 
The Bees Knees Coffee Truck 
Batter + Dough 
Prickly Cactus Ranch 
Dots and Things
Speakeasy at the Gamble Mill, 6 p.m. to 10 p.m.
160 Dunlop St • gamblemillbellefonte.com
Heard about the Gamble Mill's Speakeasy event space, but haven't had the chance to check it out? Or you've already been there, but been looking for an excuse to enjoy a drink by the fire once again? Stop by this Saturday to learn how you can plan anything from a birthday party to a baby shower, or stay awhile and sip a drink by the fire.
For more information:
Jennilyn Schuster, Main Street Manager — jennilyn@downtownbellefonteinc.com
---