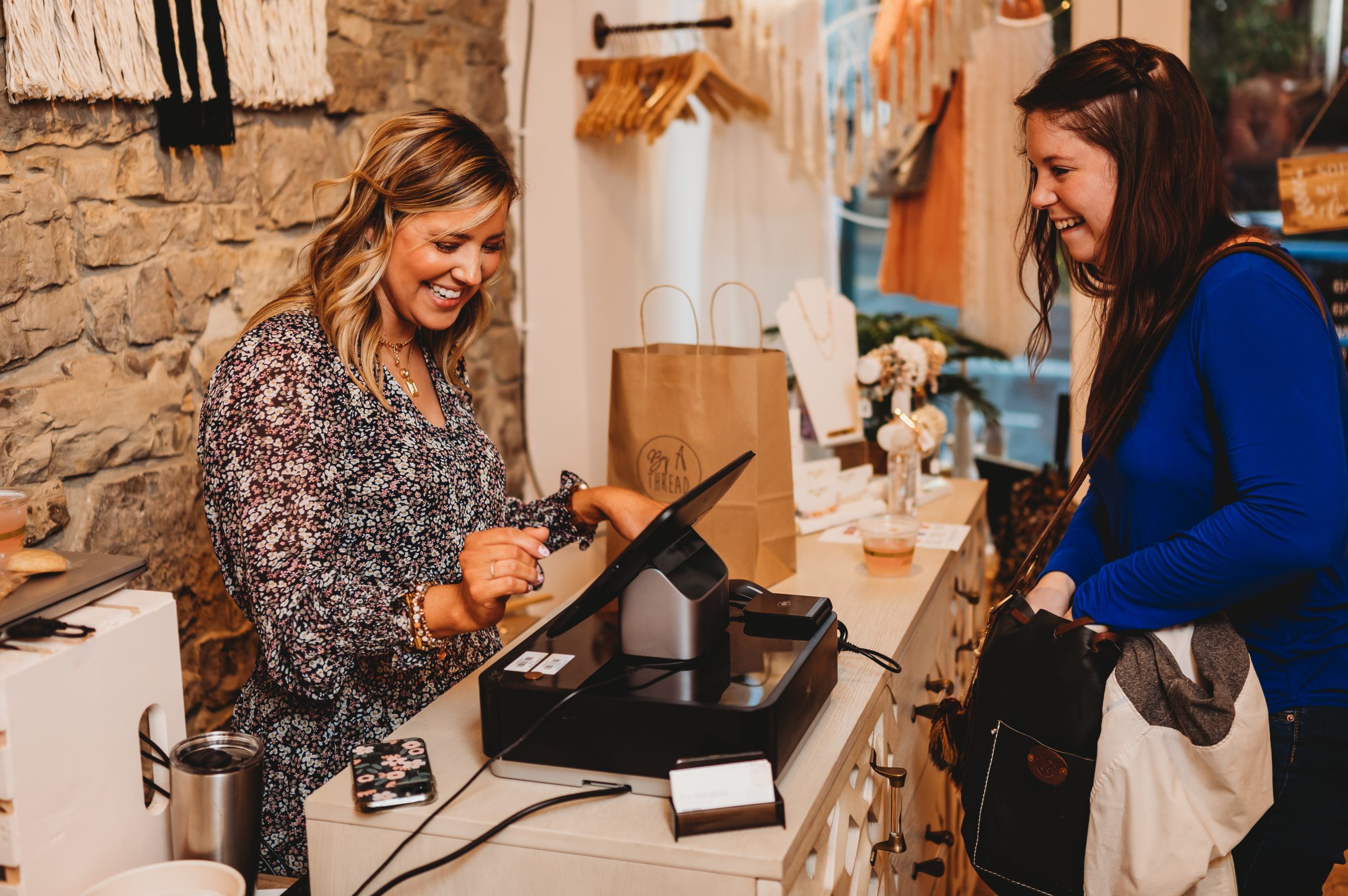 Black Friday marks the official start to holiday shopping, and Small Business Saturday, held each year on the Saturday after Thanksgiving, reminds us to support local businesses by shopping small. On Saturday, November 26, find special promotions and discounts at many businesses in downtown Bellefonte. 
During the national shopping event, Downtown Bellefonte Inc. will commence its annual Shop Small Crawl sponsored by Universal Settlement Services of PA.
On November 26, purchase a Shop Small Crawl Tote Bag for $12 at the Downtown Bellefonte Inc. welcome table inside the Little Blue House at 105 N Spring St. (across from Pizza Mia). From 10 a.m. to 2 p.m, stop by for music and come inside to warm up with hot chocolate! Every 30 minutes, DBI will be giving away a $30 #LoveBFT gift card to one of its Neighborhood Supporters. Visit the DBI booth to become a member and enter the drawing on Small Business Saturday. 
From November 26 through December 19, shop at the participating locations below to earn unique pins for your tote bag from each business and organization. Collect a minimum of 15 pins to be entered into a grand prize drawing for a chance to win a #LoveBFT gift card. Two grand prize winners will receive a gift card valued at $250!
The Shop Small Crawl Totes will also be available at the DBI booth at Belle Mercantile from November 26 through December 19.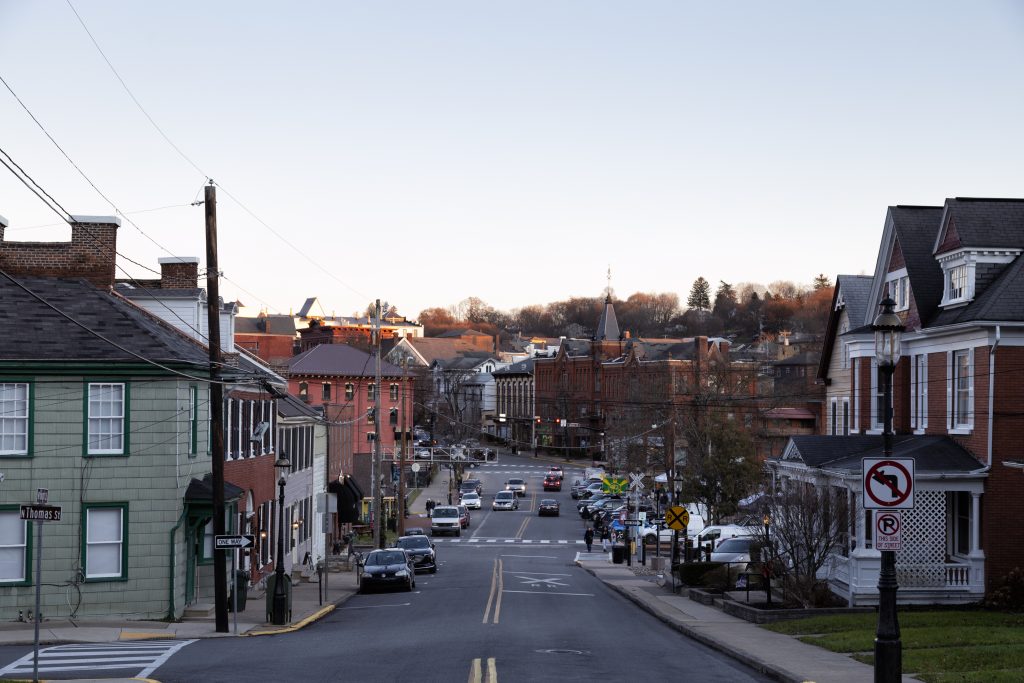 Learn more about the Shop Small Crawl here.
Ride the Holiday Trolley
New for 2023, Downtown Bellefonte Inc. will have a Holiday Trolley on four dates helping residents and visitors to Bellefonte support local this season. See the full trolley details here. This effort was made possible entirely by sponsors!
'Tis the Season in the 'Fonte
Bellefonte is the perfect place to experience a Hallmark-esque holiday season. Picture grabbing a hot coffee from Bonfatto's and having a morning stroll through Talleyrand Park. Maybe you stop by By A Thread in search of a cozy sweater for a holiday party coming up. Or possibly, you stop into Big Spring Spirits, Good Intent Cider, or The Republic to warm up with a craft beverage. Next up, gift shopping at Plumb's Card & Gift, Art a la Carte, or the Magpie's Nest. The options are endless when planning a day in Bellefonte. 
Check out all the specials and events happening on Small Business Saturday! All businesses below are participating in the Shop Small Crawl. 
By A Thread, 11 a.m. to 4 p.m.
115 W Bishop St
By A Thread is a boutique with hand selected unique pieces for work and everyday casual wear. They will be running in-store promotions on November 26. 
Thread Baby, 11 a.m. to 4 p.m.
135 W High St
A cozy little boutique curating new apparel for the modern baby. Find in-store promotions on November 26. 
Smith + Front, 10 a.m. to 5 p.m. 
160 Dunlop St (inside the Gamble Mill)
This shop offers a curated selection of handmade, independent + local brands. The first 50 customers will receive a free mini card on Small Business Saturday.
Felicity's Pet Supplies, 9 a.m. to 6 p.m.
2022 Axemann Rd, Ste 101
The place for quality pet food and supplies for happier, healthier pets. Find Black Friday sales all weekend.
Bees Knees Coffee, 10 a.m. to 3 p.m.
114 E College Ave, Pleasant Gap (Pop-up at Gamble Mill on Friday, Saturday, and Sunday)
The first mobile coffee shop and coffee delivery service in Central PA. They provide handcrafted coffee, hot chocolates, and baked goods.
Belle Mercantile, 10 a.m. to 5 p.m.
135 S Spring St
A large collective marketplace featuring over 60 local artisans, makers and small businesses. They were voted "Best Place to Buy Gifts" by State College Magazine and "Business of the Year" by the PA Wilds – Belle Mercantile is your one stop shoppe for gifts!
Plumb's Card & Gift, 9 a.m. to 6 p.m.
105 N Allegheny St
A fine selection of gifts, home decor, greeting cards, jewelry, holiday decorations and much more. Enjoy 25% off your purchase on November 26 (excludes counter cards).
Fez Records, 8 a.m. to 8 p.m.
2042 Axemann Rd, Ste 210
An independent record store that specializes in NEW and USED vinyl records. They also carry new turntables and used compact discs and cassette tapes… not to mention Fez Records merchandise. Get 10% off the entire purchase on November 26. Follow along their social media to hear about upcoming holiday-themed events. 
Bellefonte Art Museum for Centre County, 10 a.m. to 5 p.m.
133 N Allegheny St
The Bellefonte Art Museum offers original fine art and hand-crafted items by local artists.
Monarch Salon, 10 a.m. to 2 p.m.
114 S Spring St
This salon offers most hair services, waxing services, and soon- nail services! During Small Business Saturday, they will be offering deals on hair products, gift card specials, and launching some new items that will make the perfect Christmas gifts.
Big Spring Spirits, 12 p.m. to 10 p.m.
198 Match Factory Pl
Big Spring Spirits is proud to be a partner with this community, sourcing from local farmers and artisans, whenever possible. During the holidays find tasty spirits, cocktails, gift cards, gift sets, and logo merchandise. 
Art a la Carte, 9 a.m. to 5 p.m.
107 S Allegheny St
Featuring the artwork and fine craft of over 30 local artists. They will be serving hot apple cider and homemade cookies for Small Business Saturday!
Gamble Mill Inn & Suites and Speakeasy, 10 a.m. to 3 p.m. 
160 Dunlop St
Enjoy a variety of local vendors set up in their Speakeasy and one of the suites on November 26.
The Republic, 10 a.m. to 10 p.m. 
160 Dunlop St (inside the Gamble Mill)
The Republic offers a variety of craft cocktails, quality wines, and draft beer unique to the area. A variety of mimosa flavors will be available using their delicious on-tap Prosecco so you can sip while you shop!
Jabebo Studio, 11 a.m. to 4 p.m. 
213 E Bishop St
They sell their own earrings as well as other recycled, hand-made, and fair trade gifts. During Small Business Saturday, buy 2 Jabebo earrings and get 1 free.
Good Intent Cider, 12 p.m. to 10 p.m. 
167 S Potter St
Enjoy small batch hard apple cider made in Bellefonte, PA.
Pizza Mia, 9 a.m. to 11 p.m. 
106 N Spring St
Pizza, Subs & Wraps, Salads, Dogies, Burgers, Steak Sandwiches, and House-made Desserts! On November 26, buy 2 House made Christmas Cookies for $1.
Pine Market Seasonal Pop-Up Shop, 11 a.m. to 4 p.m. 
109 E Bishop St
A short-term pop up shop featuring your local small business makers, curators, and dreamers this holiday season.
Happy Wraps, 10 a.m. to 9 p.m.
216 W High St
They offer delicious Wraps, Salads, Soups, Smoothies, Milkshakes and Ice Cream. Check out their featured Holiday Dinner Wrap!
The Great Mish Mosh, 10 a.m. to 6 p.m. 
128 S Allegheny St
Find sales on antiques and collectables throughout the store!
Our Fair Lady Bed and Breakfast, Email at ofl.schuster@gmail.com
313 E Linn St
Gift certificates are available in any amount. They can be mailed or you may pick them up. These make great Christmas/Anniversary or birthday gifts. Mention Small Business Saturday and receive an extra bonus with your gift certificate.
The Governors' Pub (11 a.m. to 8 p.m.) and Talleyrand Tavern (5 p.m. to Midnight)
211 W High St
Eclectic comfort food, generous drinks, and a friendly, small-town atmosphere. They are a full service restaurant and bar. 
Magpie Interiors, 10 a.m. to 4 p.m.
Find unique gifts and home decor including some handcrafted by local vendors. On November 26, enjoy refreshments and Free Gift Wrapping before noon.
Centre Boot Company, 9 a.m. to 3 p.m.
380 Phoenix Ave
Center Boot Company carries a wide selection of quality Work, Hunt, Western, Duty, Women, and Kids boots. The entire store will be 20% off during Small Business Saturday.
Bonfatto's Italian Market and Corner Cafe, 8 a.m. to 7 p.m.
401 W High St
Provides you with delightfully delicious coffee which is prepared specially for each and every customer. Browse their collection and stop by to try their new winter drink flavors for yourself. Stop by on November 26 for one free drip coffee – any size.
Titan Market, 9 a.m. to 4 p.m.
2042 Axemann Rd, Ste 111
Shop with local farmers, artisans, crafters, and other small businesses at Titan Market. During Small Business Saturday, get $5 off $50, $10 off $100.
---